Brown sounds are the happenings of a hurricane — sandy waves and sewage gush in the streets and rush down the mountains. Mud slabs and unforgiving boulders create a sound vacuum through humble hillside dwellings.
Across this land covered in color and surrounded by turquoise Caribbean water, these sounds of dirt and destruction still echoed in Puerto Rico when I arrived there at the beginning of November 2017, one and a half months since Hurricanes Irma and Maria made landfall.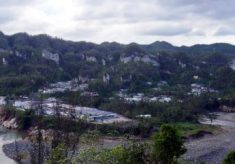 Boots are on the ground for a variety of positions for disaster response. Mine usually stay pretty clean as my work is with digital media content, but I was ready for anything. I wore boots and packed gloves and a flashlight. I just wanted to help people whether from my laptop or the streets.
I'm fully trained and plenty experienced, in the tasks of my work. But still, I felt unprepared to make a difference facing such devastation across the island. With so many Puerto Ricans — U.S. citizens — calling out for roofs, water and electricity, my work seemed far too small a drop in the buckets of relief needed. The sounds in my own head telling me that I might not be helping enough were so loud.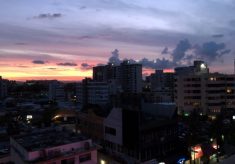 There were many loud sounds in San Juan — car horns incessantly honking on Avenida Doctor Ashford, the hotel casino's slot machines that had power in spite of people across the street being without it for a week, choppers landing at the National Guard base next door. But anyone who's responded to a natural disaster knows that the loudest sounds of all can be our own asking, "Am I helping here? How can one person make a difference?"
And for others, the sounds are black. It's unlikely that we'll ever know how many lives were really lost due to the hurricanes. In spite of further investigations, the death toll remains around 60, but the residual effects of power loss, contaminated water and delayed medical care are difficult to measure.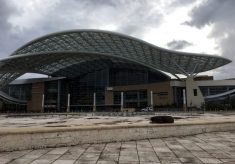 Maybe the question we should ask ourselves is, "How can I silence the noise and focus on myself doing good work — GREAT work — to help people and resources here recover?"
A routine walking break over lunchtime saved my sanity, as 12 hour shifts in a mostly-foreign language are taxing. The "office" was the massive convention center which had overnight been transformed into the Government Command Center as well as living quarters for hundreds of response and relief workers.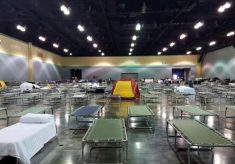 Inside was a constant buzz and crowd, but the area out front was usually quiet. I guess that's what happens in a normally busy port when the Jones Act prevents the delivery of goods to a disaster-ravaged commonwealth. My walking route was anchored by a stately ficus tree that had otherwise withstood the hurricanes better than many of its siblings across the city.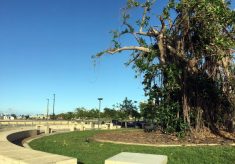 Movement in the grass alerted and even alarmed me. The environment made me extra cautious, with dangling power lines, precarious tree branches and deep potholes presenting constant concern on even the shortest walks. I realized though that this movement was not a dangerous pack of feral dogs.
It was a pack of parakeets, which I later learned is called a pandemonium. Recalling the birds' feeding frenzy in the grass, it's easy to see how the term, "a pandemonium of parakeets," came about. They are fiesty!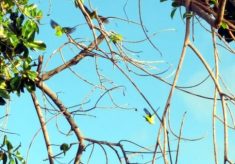 I've only ever seen parrots in captivity before, so watching their frantic mealtime in a natural setting was another new experience. Practically everything besides brushing my teeth felt like a new experience in Puerto Rico! And at that moment, I finally realized that was okay. The sounds of these struggles in our heads, while they are incomparable the struggles of hurricane survivors, are what give way to the green. The sounds of the green are those of the earth recovering from a hurricane.
Imagine the first bird chirp a survivor hears after the winds and waves of a hurricane subside. There's sloshing in a pail, a wet broom swishing concrete, and the dripping. The dripping, where is the dripping coming from? Everywhere is dripping. But then, a bird is delighted for a drink in a spot of sun. It's a small trumpet for the bird, but it's the sound of a new beginning.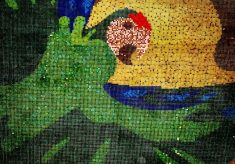 In San Juan, parakeets are fighting for food in the grass. Lawn maintenance is buzzing even louder than the electrical generators that so many depended upon for months. Mighty buds are turning sticks back into rain forest. This island's green noises are loud with persistence and strength just like the voices of many Puerto Ricans and their supporters on the mainland.
—
Thanks for reading! Did this post take you to Puerto Rico, or have you visited recently? Share your thoughts with Trailheaders on Twitter and Facebook or in the comments below.