How about a road trip south from Denver to southern Colorado and northern New Mexico? This route is often overlooked in favor of "heading west" from Denver over the Continental Divide, but the scenery south is no less spectacular, albeit in a different way. On this road trip, alternate between volcanoes and cliff dwellings in U.S. national parks.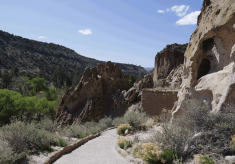 This road trip includes visits and hikes/walks at Capulin Volcano National Monument, Bandelier National Monument, the Los Alamos branch of the Manhattan Project National Historic Park, Valles Caldera National Preserve and Mesa Verde National Park.
There are short hikes at Castle Rock and Treasure Falls, Colorado.
Key towns and cities on the route included Taos and Los Alamos, NM; and Trinidad, Durango and Pagosa Springs, CO.
I recommend at least four days for this trip, but more would be better!
My favorite part of this road trip is the actual road part. There's not much time on the interstate, and some of the state highways are four lanes or have lots of passing lanes. The drive is hilly and curvy and packed with grand vistas from green forest to prairie sagebrush to desert. You'll drive over Wolf Creek Pass and all around Wheeler Peak Wilderness. You'll drive up and down and all around a volcano and a super volcano.
Castle Rock Stretch-Your-Legs Hike
Heading south from Denver on I-25, you'll shortly drive through the city of Castle Rock. Why not start this roadtrip with a walk up to its namesake? Park at Rock Park just seconds from the interstate, and use the Paul Hill Trail and John Emerson Summit Trail to make a 1.3 mile loop around "the" Castle Rock. It provides a great view and a chance to stretch your legs, have a picnic or use rest facilities.
Great Sand Dunes National Park and Preserve
I skipped Great Sand Dunes National Park and Preserve in Colorado on this trip but only because I've been there several times. I definitely recommend it as its own trip or as part of this road trip. Click here to read my review of visiting this area, the San Luis Valley. It would only add about 30-45 minutes each way driving and could be added at the beginning or end of the trip.
Trinidad
Trinidad may be a nice place to stop for your evening. It has a charming downtown and incredible views of Lake Trinidad. When I checked in at the Rodeway Inn, the clerk asked me if I was planning to smoke marijuana in the room. Dubiously (yes, pun intended), I asked, "If I was, would you like to join me?" Turns out, they just charge an extra fee to smoke pot in the rooms since some travelers in this border town appreciate Colorado's legality of recreational marijuana. It's $25, which sounds steep, but if that's what brings you to Colorado, remember that it's less than a $250 room cleaning fee!
Capulin Volcano National Monument
Back on the interstate, cross the CO/NM border, and at Raton, veer southeast for about an hour and head into Capulin Volcano National Monument. You can hike down to the middle of the crater…
…around the top of the crater…
…and at the base of the 50,000+ year old volcano.
Enjoy the views here of at least three states (Colorado, New Mexico and Oklahoma) plus maybe Kansas and Texas, according to the National Park Service.
Bandelier National Monument and Taos
Next, you could head south for a few hours and see Roswell. But on this road trip, I settled in for a scenic 2-3 hours west through the mountains, past Angel Fire ski resort. You'll also pass the NRA (National Rifle Association) Whittington Center, if you are looking for a guided hunt or shooting range.
Bandelier National Monument can be next on the list. Protecting evidence of human habitat going back 11,00 years, there are hiking trails in addition to the cliff dwellings, many of which can be climbed in and around. People who have a hard time with stairs or narrow spaces may be more comfortable staying on the trail though.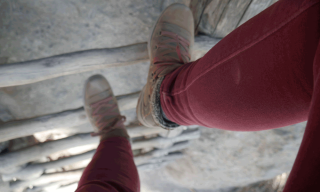 You could easily spend all day here, exploring and hiking, or just stop by for a couple hours for the main trail. In the summer, you need to shuttle-in, but I had no problem finding parking in April.
There is something otherworldly about the rock formations here. Any other fans of original Twilight Zone episodes might feel like they are on the set of ones where astronauts crash land. Click the upper left corner of the photo below to "pin" this trip to your favorite board in Pinterest!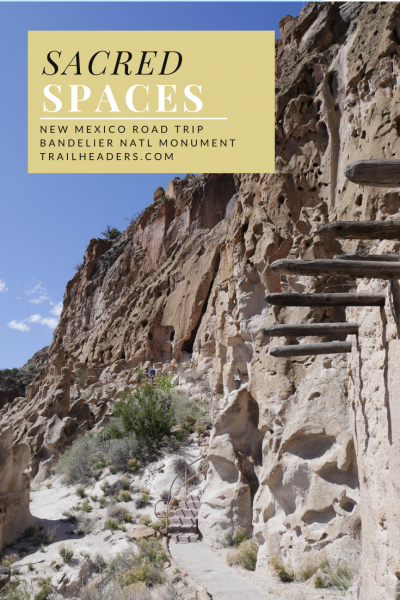 Nearby Taos is a destination in and of itself. Creatives lead the look of this community with a substantial portion of the town being walkable between galleries and making-spaces, but I couldn't keep my eyes off Wheeler Peak, which you can see in the photo below.
Just north of Taos is the Rio Grande Gorge Bridge, the fifth-highest bridge in the U.S. at 650 feet. Built in the mid-1960's, the steel bridge hasn't changed much, which you might notice in its lack of higher, modern guardrails. I've heard that it's too dangerous in terms of bridge weight to make them higher now (although I cannot recall the source. Engineer friends, feel free to school me in the comments.). Walk at your own risk (it's definitely worth it!) on the sidewalks on either side of the two-lane bridge stretched across the Rio Grande River. There are vendors set up at one end. There is also a decent rest stop facility.
Los Alamos and Valles Caldera National Preserve
The town of Los Alamos is fascinating and in such a unique location. Here, the Manhattan Project National Historic Park tells its history of the town being built up by the government to become Los Alamos National Laboratory (LANL). Research and development here of atomic bombs lead to the conclusion of WWII. There are also components of this one-of-its-kind park in Oakridge, TN and Hanford, WA.
Plan to take the history walk around town if you have a couple hours, or stop in the Visitors Center for 30 minutes or so and walk around the big, pretty pond, above.
Follow signs out of town for Valles Caldera National Preserve, and have your I.D. ready because you have to go through a gated checkpoint. It threw me for a loop – not just because it's literally a steep curve back, but because I felt like I was driving somewhere I wasn't supposed to. But it's simply procedure for security of the area and government-owned roads. Turns out, it's okay to drive through, but don't stop, hike, make rest or litter here!
Like Capulin Volcano and well, like Los Alamos in a way, Valles Caldera also has an explosive past. It was the site of one of the earth's three super volcanoes, and the crater is 13 miles wide! Imagine if all the golden grass you see above and below was molten, bubbling lava.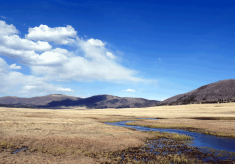 This National Preserve offers hiking, fly fishing, hunting, streams, wildlife and native history. It was fine for a short hike, but I suspect that a place this remote is best explored over several days.
Mesa Verde
You won't be at Mesa Verde long before you get a sense of nostalgia in the buildings and the typefaces. I'm not talking about the ancient cliff dwellings but the park buildings and facilities. They are fastidiously maintained and stand as a time capsule to earlier days of U.S. National Park road-tripping.
Here, there are numerous hiking trails and overlooks, as you can find at the NPS website. I took Petroglyph Point Trail which lead past the Spruce House.
Exploring the Spruce House is currently closed to visitors, which didn't bother me at all. I enjoyed climbing the ladders and into the dwellings at Bandelier, but the conservationist in me can't help wincing at the thought of site degradation with every new footstep. So I kept to the trail and enjoyed the views and hike.
Plan for long drive back to the site itself after paying your entry fee — 30-45 minutes. But it's worth every moment! I recommend spending a whole day here and the evening in nearby funky-friendly Durango, or keep going east for another hour and land in Pagosa Springs.
Treasure Falls
Heading out of Pagosa Springs, this is probably your final day of the trip. And it's the most beautiful part of the drive, although I have some southern Colorado gal bias. There are several hiking options as you drive on this road. Just keep an eye out for where other cars are parked — there's probably a trailhead! This time, I picked Treasure Falls. Click the upper left corner of the photo below to "pin" this trip to your favorite board in Pinterest!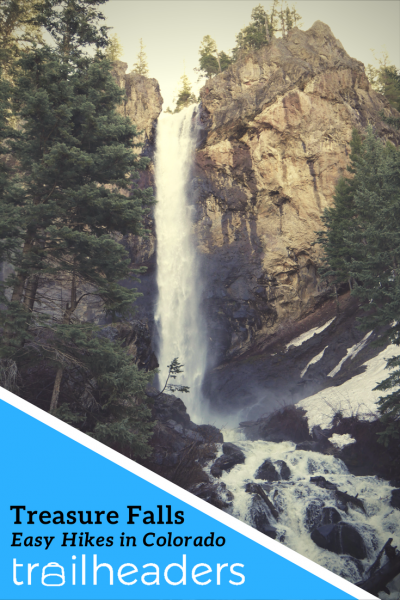 It's just a 20 minute walk or so, but the power of the falls is such a sensory experience that it feels like you are gone a lot longer. You WILL get misty from the falls, to a point where I put my good camera in a plastic bag to keep it dry.
Taking Hwy 160 over Wolf Creek Pass is fun and breathtaking. Keep your eyes out for cars on the side of the road — there are many pullouts, and you are encouraged to use them! If you notice that you have several cars behind you, that means you are probably going slow, so you can pull over and let others pass. RV drivers and first-time mountain drivers, I'm looking patiently yet pointedly at you!
You may also want to pull over for wildlife viewing. I felt blessed to catch sights of these big horn sheep. Even growing up around here, I have only seen big horn sheep a couple other times! Enjoy the special experience of seeing these animals closer than usual, but stay safe. When slowing and parking, don't act suddenly, even if you did rather suddenly notice the animals and decide to stop. If you get out to take photos, don't forget that these animals could charge you, and you don't want to be THAT TOURIST in the news who got to close to a horned and horny ram. Also, wildlife should not be captured, warmed or fed by lay people — wildlife welfare professionals are the only ones who should try to approach animals.
Hwy 160 dispenses you in the San Luis Valley, with the San Luis Mountains west and Sangre de Cristos mountain range to the east. (Looking at a map, I remember "Luis=left.") Although this flat farmland is a stark contrast to the mountains you just drove through and the ones you'll be driving through shortly, I am awestruck every time. Just north of the town, Del Norte, there is an amazing 360 degree view.
Veer NE and catch Hwy 285 which will get you back to Denver. Saguache is interesting and charming, definitely worth a stop if it's time for brunch or lunch.
I hope you've enjoyed this Trailheaders-Tested road trip in southern Colorado and northern New Mexico. Seeing ancient sites of destruction and regrowth (volcanoes) as well as ancient sites of creation and sustenance (cliff dwellings) may provide you with something philosophical to muse on the drive — cycles in nature, existence, etc. But if that's not your style, just take in the variety of views and landscapes on this national parks loop road trip south from Denver. Thank you for stopping by!
ROADS NOT TRAVELED (on this trip): If you visit any of these on your NM/CO Road Trip, let me know on Twitter @trailheaders!
In New Mexico: Very near Capulin Volcano is Folsom Man Archaeological Site. It would be a fascinating stop, but it wasn't open when I visited in the spring. I was headed to Kasha-Katuwe Tent Rocks National Monument, but there was a sign about 10 miles away that said it was closed. Capital city Santa Fe is a short detour, and the state's largest city, Albuquerque, is just an hour beyond that.
In Colorado: Chimney Rock National Monument is only open May-September but is directly on this route. You could include national sites Florrisant Fossil Beds (central-south), or Sand Creek Massacre and Bent's Old Fort (southeast) with slight detours. North and slightly west of Mesa Verde, I recommend the Anasazi Heritage Center followed by Canyons of the Ancients National Monument. Then, you could go to Hovenweep National Monument, but that's in Utah now and gets into a whole different road trip itinerary. Check back for it soon!