A lot of people in the continental U.S. seem to know someone who's also worked, visited or lived on Puerto Rico. Even though it's over 1,000 miles from the Floridian tip, the island can still feel close to us. So consider taking a trip there in 2018 and learning more about what makes Puerto Rico la isla encantada!
In Puerto Rico, you will have the best of the Caribbean Sea combined with some comforts of home.
Plus, you can help the economy recover after Hurricanes Irma and Maria damaged much of the island in September 2017
. It's understandable to wonder, "What can my vacation
really
 do to help when they need a
billion
dollars to rebuild?" But that's how dollars add up. Travelers can support natural disaster recovery one trip at a time.
You might think that tourism is the biggest industry in Puerto Rico. Before these latest hurricanes, the manufacturing industry contributed more than 50% of the PR economy
. Agriculture was another large contributor. These industries have both been
negatively
affected by the hurricanes. In 2016, tourism contributed over $8 billion to the economy, but that was only 8% of the island's GDP (
USA Today
). In 2018,
perhaps
that percentage will be a lot higher.
So plan on visiting Puerto Rico this year, maybe as part of a cruise. Or, fly to San Juan and take a day trip to other parts of the island. When it comes to a first-timer's guide to Puerto Rico, I have a lot of tips, and you have a lot of reasons to go for it!
1. You Don't Need a Passport
Wondering if you need a passport to Puerto Rico? The answer is no, not if you are from the United States. Don't feel badly for not remembering this from a long-ago social studies class, but Puerto Rico is a commonwealth of the U.S.
After all, that's why we were there for hurricane response, because Puerto Ricans are U.S. citizens. And the public lands there are our public lands to help protect and restore.
I brought my passport anyway, because I couldn't imagine being so far from the mainland without it.
2. Confirm Your Lodging
The Puerto Rican tourism website, See Puerto Rico, noted that there are 121 open hotels. AirBnB is popular there too. You should not have a problem finding a place to stay in San Juan, and it might be just as hospitable as ever! However, here are a few things to check:
If you have previously booked lodging, call or email the place directly and confirm that you are still able to stay. If they don't answer one, try the other method because maybe their wired phone line is out, but they are able to email.
Before booking or while confirming lodging, ask what happens when the electricity goes out. Will the water still run? Do they have a backup generator? Although it's now reported that power restoration has come to 85% of the island, survivors are still reporting outages. The power was out for over a week when I was there! It didn't affect me in a hotel with a generator, but some people I knew at an AirBnb across the street lost all the food in the fridge.
Is mold a major issue for you? Some hotels were still airing out the carpeting when I was in Puerto Rico in November. Although it should all be dry by now, mold issues could linger. People who are highly susceptible to mold may want to talk to their doctors about visiting very humid climates anyway.
Ask about amenities. Some swimming pools, beach access areas and gardens are still being rebuilt. There's nothing like showing up with your ducky floaty to an empty shell of a swimming pool.
3. Beware Potholes and Expect Flat Tires
Potholes are prolific and plentiful in Puerto Rico, and not all the road damage can
be blamed
on the hurricanes
. Luckily, the deepest ones are often marked with something. If you see half of an orange traffic cone sticking out of the road, there's a pothole to avoid. I saw some creative markers like a shopping cart on its nose. And in something too deep to
be called
a pothole, there was just the top of a chaise lounge sticking out.
If you have a rental car on your trip, there's a good chance you will get a flat tire. I wish I'd had been able to find a can of Fix-A-Flat to drive around with
just
in case. I wound up with a flat tire on my last day in San Juan! My poor, maroon Dodge Caravan.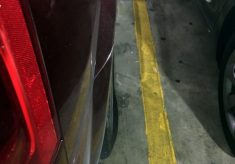 Actually, I felt most sorry for the man who changed the tire.
I was at the hotel when I realized the damage, so my roadside
assistance
occurred in the middle of a PACKED parking garage
.
The garage didn't regulate spaces for entries, and the temperature in there seemed to raise with every passing driver's rage
.
They were driving in circles since the street out front was practically a parking lot too with traffic. They looked at us in the space longingly, asking me in Spanish when I was leaving. They didn't like my answer, which was, "¡Mañana!
4. Schedule for the Skies
You won't want to miss Puerto Rican sunsets… and you won't want to miss the sunrises either! If your work schedule keeps you occupied during both, make sure to take your break and catch at least one per day. If you are traveling for pleasure, make sure you are at a good viewing/photographing spot instead of being the wheel driving east at sunset.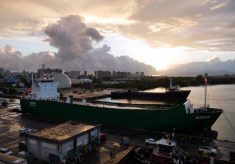 As for sunrise, I know, it's hard to get out of those cozy beds at higher end resort hotels. If you are in a hostel or couch-surfing, take advantage of the not-so-lingering circumstances and get out of bed early. If you are on a cruise ship, San Juan sunrises are amazing in the port.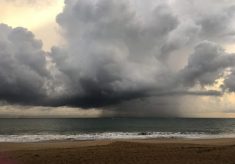 I tried not to get caught in the torrential storms, but it can be incredible to watch them roll in from the shore. Whatever time of day, the skies around San Juan, Puerto Rico are perfect for enjoying the power, the ferocity, and the colors of the clouds.
5. Be Wowed By the Wildlife, Even in the City
When this iguana sauntered across my path in San Juan, I couldn't believe I was the only person snapping pics. It felt like watching a dinosaur! 
Maybe
if you live in San Juan for long enough, the wildlife isn't
nearly
as picture-worthy. I can understand that. But for a visitor, the variety of animals you may encounter in Puerto Rico is astounding!
At dusk, you'll begin to hear the coquí, a small frog with a notable croak, around any kind of vegetative area like bushes in a yard
.
I've mentioned some
parakeets and parrots
that wowed me, but there are many birds unique to this island
. You'll definitely want to bring a birding book and your best lens if you are a birdwatcher.
These tips for visiting San Juan may be
just
the inspiration you need to visit this year! There are so many things to see, places to stay and restaurants to try if you visit San Juan. Don't miss this chance to help part of the U.S. recover from one of the toughest hurricane seasons ever.