Maybe you found a flight deal to SJU, or you already had plans to visit before the hurricane. Maybe you want to help the economy recover after Hurricanes Irma and Maria wrecked the island in September 2017. Or maybe you want to visit the Caribbean from the U.S. without a passport. Whatever the reason, there's no "maybe" about it anymore — you want to visit Puerto Rico!
When I first arrived at the beginning of November, I would not have advised the typical traveler to visit. I was constantly worried about falling in a pothole, among many other concerns. Some were valid and some were just voices in my head. But by the end of my month and with many developments since in power and supplies, I encourage nearly anyone to visit.
[Since the
CDC
remains to caution travelers against Zika virus, I feel compelled to as well for my readers to whom that may be a concern. Why chance it!?]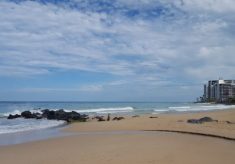 The Puerto Rican tourism partnership website, See Puerto Rico, reported encouraging numbers about the current condition of travel:
TOURISM IN NUMBERS IN PUERTO RICO
120 Open Attractions
80 Daily Flights
121 Open Hotels
15 Open Casinos
4000 Open Restaurants
177 Open Travel Agencies
The partnership site also suggested that the commonwealth's capital city, San Juan, is currently the best bet for tourists. So here are a few more numbers for you — the Top Five Tips for visiting San Juan, Puerto Rico in 2018. Let me know if you're inspired to visit Puerto Rico!
1. Busca the Baddest Buses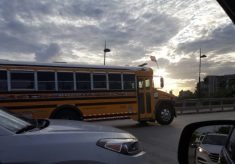 The retrofitted school buses of San Juan are bad to the bone, or at least to the chrome. They function as typical school buses during the day, but at night they are party buses. In the earliest hours of the dawn and beyond, they may be following the news or even the police. No matter what time of day you see these buses, they look a little menacing, like a kids' book gone wrong.
My first sighting of the chrome buses was in morning traffic, already a harrowing experience without functioning stoplights at the time. It was only my second day driving a vehicle in Puerto Rico, and suddenly sirens came up behind me as I merged onto the interstate highway, PRI-1, at Dos Hermanos bridge.
I pulled over with the hazard lights on and watched as at least 8 or 9 emergency vehicles sped by, wondering what terrible thing had happened now to this island still suffering from dreadful hurricane losses. Then the chrome-studded yellow school bus rolls past, blaring a siren all its own and traveling as fast as the police cars it was chasing.
Was this is a formal system or just a quick way for the bus to get across the city in its notorious traffic jams?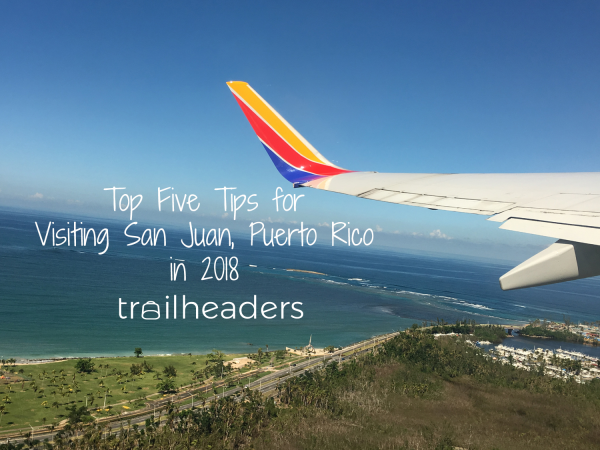 I had to do a reality check — and a pulse check — after that. It was one of those Travel Moments where you ask yourself, "Am I really here?!" or some variation of, "Who's life IS this?" And those are the Travel Moments that keep me wanting more.
2. Spanish Skills Encouraged But Not Required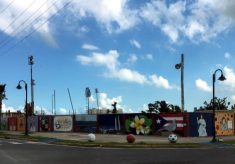 It's fine if you aren't multi-lingual, but knowing just a few words in Spanish will help a lot in Puerto Rico. Basics for courtesy, ordering food and shopping are always nice. Knowing some directional words made the highways and spotty GPS navigation easier to understand — norte, sur, este (east), oeste (west).
If you are staying at a resort or dining and shopping in tourist areas, you should be absolutely fine speaking only English. The tourism services employees I met all spoke English well. Many locals were very receptive when I tried to speak Spanish, even when I was incorrect or very slow.
Yes, Puerto Rico is a commonwealth of the United States, and yes, it's nice to be able to conduct business in English. But there is no official language of the United States. I tried to keep this in mind during my time there.
3. You Are Probably Saying It Wrong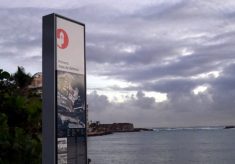 Speaking of speaking Spanish, there's a good chance you're mispronouncing the name of the island. I am the first to admit that I was wrong about how to say it, so I just want to help others especially in the middle of the mainland.
Let's try something, outloud if you can: how do you say "Puerto Rico?"
Now, how do you say, "Puerto Vallarta?"
Did you pronounce "puerto" the same in both? There is a good chance, based on my completely unscientific observations, that you learned to say "Port-o" Rico and "Pwhere-toe" Vallarta. But the latter is closer to correct for both. Now, unless you or your family is from there, you will probably be somewhat wrong no matter how good of a Spanish speaker you are. So, I hope this helps a little because before I spent time there, I was saying it wrong.
4. Consider Your Consumables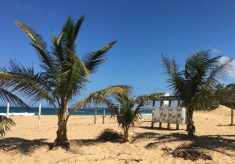 And speaking of being wrong, is it wrong to drink clean water? Absolutely not. But it's hard to feel right about the number of water bottles I went through while in San Juan for a month. There were still hurricane survivors with no potable water, and recycling services were hardly priorities over that and lacking power, closed schools and flooding.
Still, we have to take steps to keep ourselves healthy as travelers and traveling employees. Here are a few things you can do to save some plastic consumption when on Puerto Rico:
Whenever possible, refill a water bottle from a larger clean source (like the water cooler).
If disposing of a plastic water bottle, crush it to save space.
Pack a reusable shopping bag. Some places provided plastic shopping bags and others (like Wal-Mart) did not. Tell that to my minivan "trunk" full of loose groceries!
5. Quesitos Must Be Warmed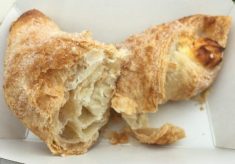 The quesito is a pastry with cream cheese and perhaps another filling like guava. Even Starbucks carries them as a "local favorite." Fresh from the oven or heated quickly before serving, they might become your new favorite pastry! But if you get one that has been sitting in the case for a bit and don't ask them to warm it, it's a big let down. Look for them from panaderias (bakeries) or bomboneros (sweets shops).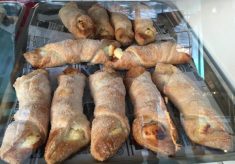 Wow, putting together this list of my Top Five Tips for Visiting San Juan in 2018 made me think of so many other tips. Check back soon for the next round. In the mean time, let me know your favorite tips for visiting San Juan in the comments below or with Trailheaders on Twitter and Facebook. Thanks for reading!