Road-tripping on I-90 along Lake Erie between Chicago, Illinois and Buffalo, New York, there's a place that is both peaceful and playful. It's educational and entertaining. It's vintage yet vivacious. It's South Bass Island, home to Put-In-Bay township, Ohio. Whether a stop on a cross-country road trip or a destination of its own, it's a guaranteed worthwhile target. Here, visitors learn about ancient geology, historic naval warfare, and modern conservation for wildlife and energy – as well as take exciting boat rides and a step back in time.
Where to Explore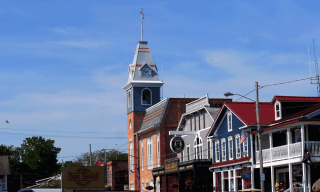 South Bass Island and Put-in-Bay township have a variety of historic, recreational, retail and dining opportunities.
Perry's Victory and International Peace Memorial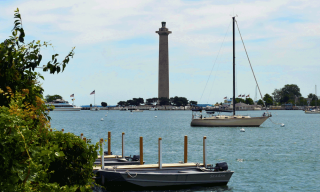 This U.S. National Park site conversely commemorates a U.S. victory over Great Britain in the War of 1812 and yet the "enduring friendship" between the U.S., Canada and Great Britain. According to the signage, it's "a fitting tribute to both the sacrifices of war and the achievement of peace." This homage as well as a township covered in U.S. and Canadian flags make it a great stop on your #Canada150 road trip!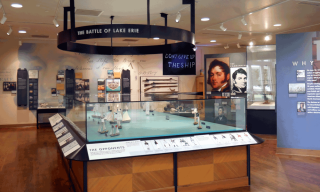 Take a look at the exhibit (pictured above) and imagine what a lake-based naval battle at the turn of the 19th century would have been like. There's plenty of memorabilia with the inspiring last works of Capt. James Lawrence to Gen. Perry, "Don't give up the ship."
Gibraltar Island Educational Tour and Boat Ride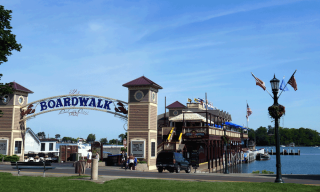 On Wednesdays during the summer, you can meet at The Boardwalk (above) and take a bay boat ride out to Gibraltar Island, home of Ohio State University's Stone Laboratory. Stone Lab is "the oldest freshwater biological field station," according to its website which you can find below. This research facility offers a tour for a nominal fee which is absolutely worth it to learn area history as well as significant challenges and opportunities faced by the Lake Erie ecosystem. For example, did you know that Lake Erie contains only 2% of the water in the Great Lakes system yet has 50% of the fish?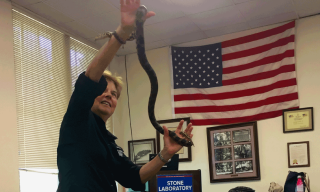 You'll meet plenty of Lake Erie water snakes and even hold them if you'd like (above). They are non-venomous and listed as threatened, nationally, and as endangered by the State of Ohio.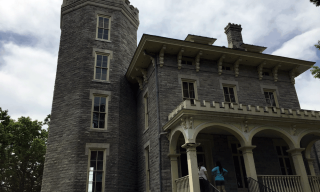 The island was once home to (Union) Civil War financier Jay Cooke, and you will visit his mansion which is also known as Cooke Castle. You can also see a different type of grandeur in the solar panels situated prominently on the 6.55 acre island. Solar panels provide approximately one-quarter of the energy used on Gibraltar Island. They've recently introduced online lesson plans to teach students about solar energy and more. Check out the educator resources link at the end of this post.
Also on Gibraltar Island is some of the largest and most accessible evidence of glacial movement in the world, 18,000 years in the making. These glacial grooves have their own historic site on nearby Kelley's Island. Tweet the pic above if thinking about 18,000 years ago is exciting and/or mind-blowing!
Other Historic Sites to Visit on South Bass Island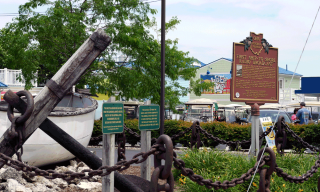 Walking along the water from The Boardwalk to Perry's Monument, you will see a sign for the First Ship-to-Shore Broadcast in 1907. The subject was the results of a yacht race. The vacuum tube technology, as developed by Dr. Lee deForest, led to what we know as "radio" and later, "television."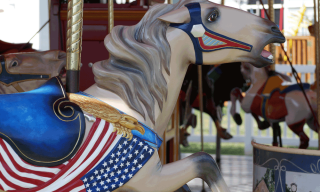 Stop at Kimberly's for a ride back in time on an original Allen Herschell carousel, one of only 100 wooden-horse carousels remaining in the U.S.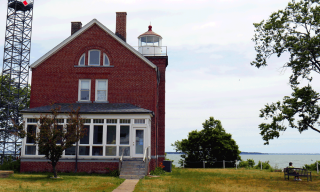 Thanks to the Ohio Sea Grant, visitors in June and July may tour the historic South Bass Island Lighthouse, although the house is viewable year-round from the outside. Groups of ten or more can schedule tours from April to November.
Where to Sleep
Camp at East Harbor State Park along the Middle Harbor Coastal Wetland. There are tent/primitive sites and full hook-up sites, firewood and sundries for sale, plenty of bathrooms with showers, laundry facilities and playgrounds. You might see deer, raccoons and dragonflies. The sunsets along the wetland were absolutely stunning.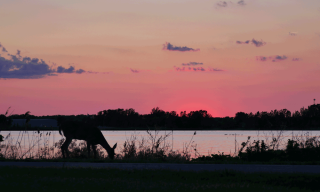 Where to Hike
At East Harbor State Park, hike the Waters Edge Trail (2.7 miles) or the Wetland Trail (1.9 miles). You can stick to the 1.8 mile multiuse trail too. There are more playground, picnic and bathroom facilities on these trails.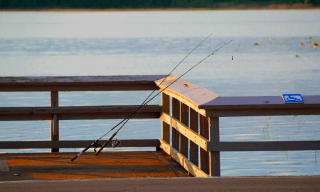 Bring your own poles or rent some; there are accessible trails and fishing spots for all.
How to Get There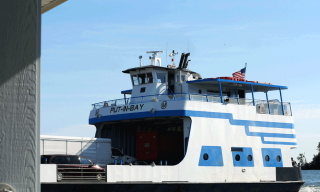 Take Miller Boat Line ferry from the mainland Catawba dock from Port Clinton near East Harbor State Park to Put-in-Bay. There's plenty of parking near the mainland dock. Although you can take your car on the ferry, South Bass Island has other ways to get around like a shuttle bus, golf carts or bicycles.
Get an early start to make the most of the day at Put-In-Bay and still arrive east to Cleveland in time to visit the Rock and Roll Hall of Fame on its extended-hour days! Look for that blog post soon…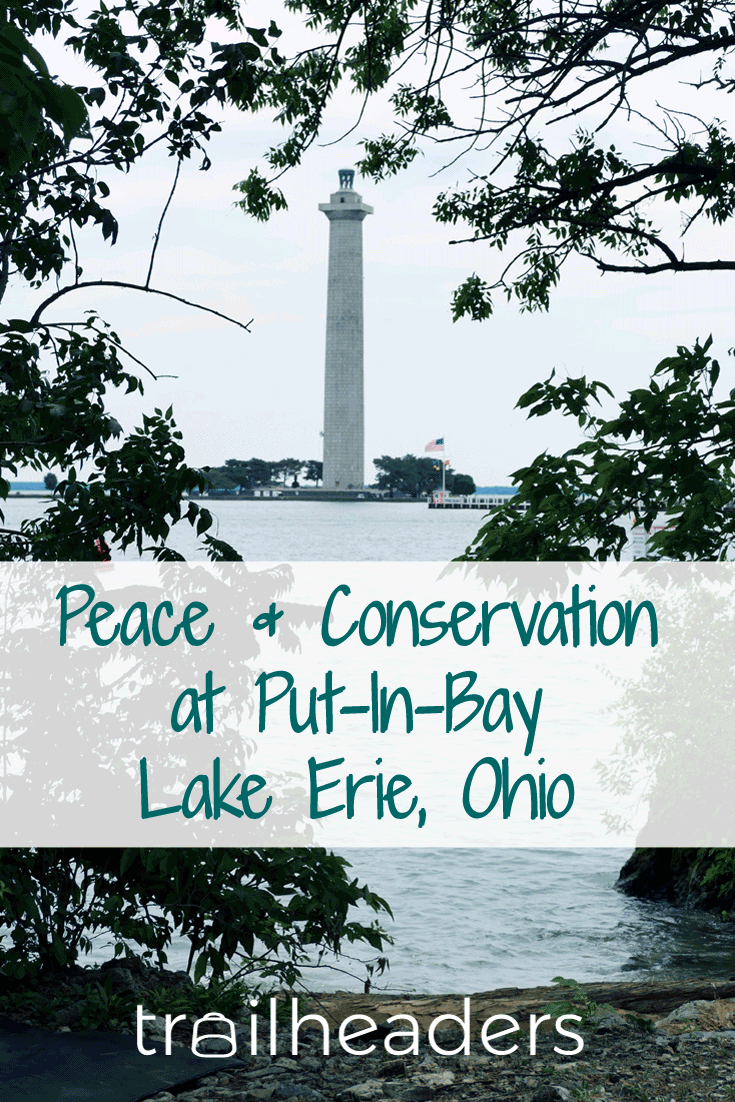 Helpful links:
East Harbor State Park 
Millers Boat Line schedule and discounts 
OSU Educator Resources (downloads for teachers and informal educators)
South Bass Island Lighthouse
Stone Lab (includes live webcams)
Thank you to my old friend who once insisted that I visit this place if ever I was in the area! Its unique name struck me and stuck with me many years later until I finally happened to be driving by from Denver, Colorado to Montreal, Canada. If you visit or have been to Put-in-Bay, I'd love to hear about it! Leave a comment below or tweet me @trailheaders