Wearing a backpack as luggage isn't just a way to travel, it's a way of life. Hoisting and hauling all your possessions for the duration of a trip connects more deeply to the experience overall. It's attached to you, literally, unlike pulling a suitcase.
As a backpack traveler, your pack may become your cuddly sleeping companion, your wingman and your bestie all in one. It's holding everything you've got on the trip, and you in turn guard it with care, maybe even affection. Unfortunately, choosing the wrong luggage backpack can feel like your bed-hogging ex, your colicky nephew and your bootcamp instructor all in one instead.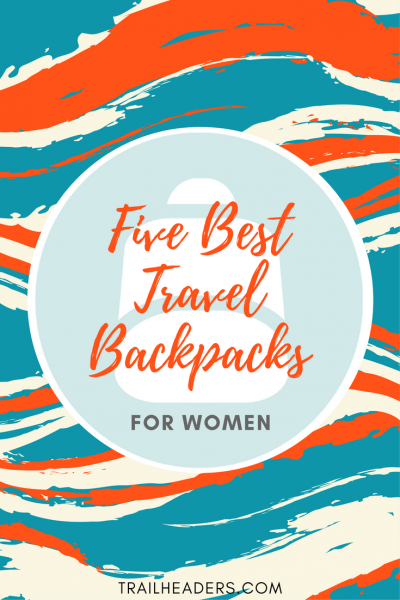 You want to know what backpack will feel best when you've missed your flight to Budapest and have to sleep on it in a train station? Or which backpack will make you forget that you packed dumbbells? (I did that once! I was 18 and spending the week with family in rural Illinois. Why I thought I'd need a pair of three pound dumbbells is beyond me!) This reformed overpacker has to admit, only a trip will tell if you chose well. But this compilation should really help.
If you tried a pack only to find that it doesn't work for you, don't suffer for the sake of sticking with the bag. List it on EBay or Craigslist, and find another one too. Life is too short for the wrong pack.
In this post, I've tracked down three excellent-looking luggage backpacks for women in addition to the two I personally use and love. Each pack has specific features that are worth considering. I hope that this honest curation of possibilities provides you with the chance to try backpack travel for the first time or perhaps, to try it for the first time in comfort.
1.  eBags TLS Mother Lode Weekender Convertible
This backpack has been with me through at least 11 countries, and it's withstood at least 36.5 pounds (over 16 kg). When I mentioned earlier that your bag might be your cuddly companion, I was thinking of nights in hostel bunk beds, curled up with my eBags TLS Mother Lode Weekender. It's Trailheaders Tested and approved, 100%!
Although this bag is small enough to fit European carry-on rules, it held my life for nearly three months abroad, so I can vouch for its spaciousness, pack-ability and sturdiness. The floating laptop sleeve gives me confidence to carry my 17″ laptop. The ebags TLS Mother Lode Weekender has deep storage front and back. The biggest drawback with this bag is that the straps are not ergonomic. With a heavy load, a 30 minute walk is my limit before I needed to rest it on a windowsill or handrail occasionally. Still though, I love the affordability, variety of colors and attention to detail.
Please note, I bought this backpack for the full price, before I even had a travel blog. My review is unadulterated.
There is also a smaller version, the ebags TLS Mother Lode Weekender Junior:
2. Deuter Traveller 60 + 10 SL Travel Backpack
I've traveled only domestically with this so far, but I have had it for two years, and it's been through a lot of road trips and plane trips. It's my largest bag, so I've used it when traveling for work as well as pleasure (to me, those things are not mutually exclusive, but you know what I mean). The Deuter Traveller is Trailheaders Tested and approved! I also bought this backpack for the full price, which I'm mentioning for the perspective on this recommendation.
This is for checked luggage only — too big for carry-on. The biggest drawback is the lack of designated laptop space. My favorite aspect of this bag is that there's a smaller daypack that zips on the front. Since most of my travels involve hikes, this is perfect for me. I used to have a Camelback, but I sold it (again, on ebay) once I got this pack, because the daypack offers a hydration system (sold separately). The daypack on this Deuter Traveller is so comfortable and functional; I use it every time I hike.
The version of this bag that I have is a 55 Liter + 10 Liter, which they no longer seem to make. If you go up to the 60 L+ 10 L, I'd recommend leaving some room from your initial packing. That way, you can use some extra space for souvenirs but not weigh yourself down with a lot of extra stuff. The 55 L + 10 L is big, especially if you happen to be short in stature.
Which reminds me, do you know what we are talking about in terms of size and those "L's"? Basically, a backpack is measured in at least two ways. The first is by dimension (Width x Height x Depth in inches or centimeters). The second is by volume, which is almost always listed only in the metric system as liters although occasionally you may see cubic inches listed.
The use of liters to illustrate backpack size does not imply waterproof-ness, not from the inside at least! But if clothes and toiletries could conform like liquid to the inside of the bag, that would be a visual for measuring backpack volume. If you are looking for a waterproof bag, you will find that it's nearly impossible to claim. Some packs do include rain covers, or you can purchase one separately.
All my favorite bags feature:
concealment systems to zip away the backpack straps when checking or stowing your luggage
the option to as easily add/remove a shoulder strap when you'd rather carry the pack as a shoulder bag
top and side carrying handles, which can come in so handy at the baggage carousel or shuttle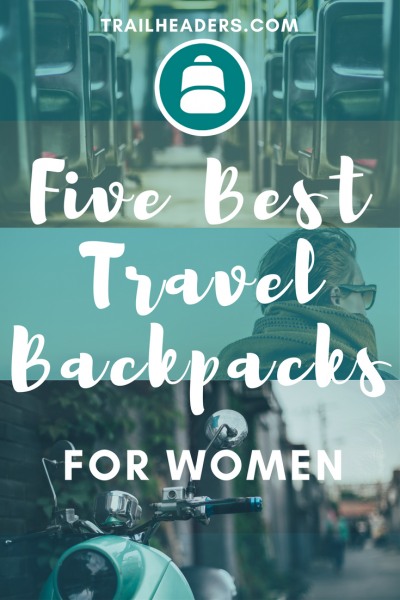 You may have noticed that there's a difference between travel backpacks and camping backpacks. The above are travel backpacks, and I have not used them (in full form) for hiking or overnight camping.
A main difference between outdoor/camping backpacks and travel/luggage backpacks has to do with how you'll be accessing your gear. Luggage-like packs zip from the front, and outdoor packs tend to be top-loading. With a top-loading pack, if you decide you want something from the bottom, you might have to unpack everything.
But not with these next two packs…
3. Eagle Creek Deviate Travel Pack 60L
This pack hasn't been Trailheaders Tested, but it caught my eye because it has both a top-load option and a large zip panel on the front. Another "best of both worlds" feature of this Eagle Creek Deviate Travel Pack is the detachable day pack. It doesn't look as ergonomic as the one that comes with the Deuter, above, but the clip system means that you could probably swap other bags here. The main pack is 45 L and day pack is 15 L.
4. Highlander Outdoor Explorer 45+15-Liter Ruckcase
Do you like the size of the last option but looking in a different price point? Maybe you are thinking about the backpack travel life but want a taste of it first. This Highland Outdoor Explorer has the same daypack system, a nice variety of colors, and is for the more budget-minded traveler. The ladder-back is adjustable for smaller-framed people. The daypack does not have built-in hydration system. The main pack can be separated and accessed in different ways, so you won't have to unpack everything to get to the bottom of this pack either.
5. Tortuga Travel Backpack – 44 Liter Carry-On-Sized, Travel Backpack
If these 55+ L bags are too big for your backpack travel needs, how about trying 45 L? If you need additional room, rather than using the attached daypack-style of bags like the three above, you can use one like this Tortuga Travel Backpack as your main luggage and bring another small pack/purse/camera bag without being over-burdened.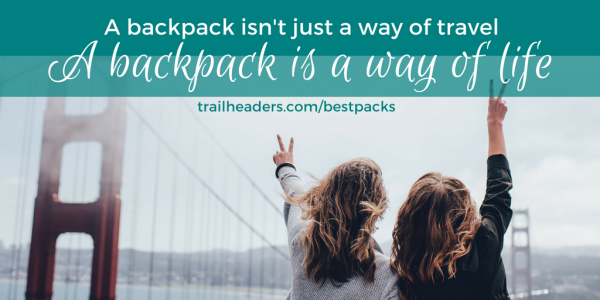 In conclusion
Remember, if you tried a pack and didn't love it, don't hang onto it on a principle of money spent. Backpacks and people are all different sizes, and it's very important that you feel comfortable wearing your travel backpack. So if you have a bag sitting in storage, barely used because it's not so useful, this travel season is the best time to try something new.
Have you given up suitcases for backpack travel? Did you try backpack travel and decide it wasn't for you? Maybe you have one of these packs and want to rave about it! Weigh in with #trailheaders #bestpacks on Twitter