Some people like to "hike light" with just what they can carry in their pockets. Others might be carrying enough for three days instead of three hours! Here is a guide to help you decide what to bring on a day hike in Colorado. There are the top three MUSTS and four more extremely, potentially useful items to carry on your first or next hike in the Centennial State or beyond.
What to Carry or Bring Hiking in Colorado
WATER. As soon as your plane lands, start drinking water. Part of having enough water on your hike in Colorado is being hydrated before you start hiking. If you're thirsty, you're already dehydrated. PLEASE take a water bottle or hydration pack with you when you hike, even if you think you're only taking a short walk. Why risk spending precious vacation days with the effects of high-altitude sickness, heat exhaustion or a terrible hangover? Drinking enough water will combat all of those things.
PROPER FOOTWEAR. Wear sturdy shoes that are reasonably broken-in and have a strong sole. The safest and most sturdy choice is leather, waterproof, ankle-high boots. As mentioned in this "Thank a Park Ranger" post, many rattlesnake bites happen near the ankle. Many of the places in this post about where to hike in Colorado are in rattlesnake country, so be aware. If you don't have hiking boots, sneakers are okay but at least trail running shoes have a more rugged sole. Some people enjoy hiking in sandals like Keen, Chaco or Tevas if hiking up a water way. Wear what you're comfortable in… but if you can do it in flip flops, it's not hiking. Bare feet would be more stable than flip flops.
A PLAN. Where are you starting, for how long would you like to hike, and where will you end up? You should start at a TRAILHEAD, which is hopefully near your parking spot for the purpose of this post. You should end back here too unless you have previously arranged a ride from elsewhere. Some trails are "loops," and some are "out and backs." Either way, figure approximately 2 MPH (although that varies by fitness, stride, and time for trail breaks to drink, snack, reflect or take pictures).Any map is better than no map. The trick about "the mountains are west" in Colorado doesn't work when you are IN the mountains or at night. It isn't always easy to find a map prior to your trip. But it's better to at least have an idea than to set out with no idea. Here are some ways to get a hiking map before you hit the trail:–Print a map at your hotel's business office, or send the PDF to FedEx or UPS to have it printed for less than a dollar.
–Buy a guide book in advance (like the Colorado Mountain Club guide below) of your trip, or pick one up when you arrive. In addition to independent and national book sellers, many grocery stores have a book section with hiking guides.
–Ask at the park entrance station or visitors center for a map as well as trail recommendations. You are so much safer and more informed carrying a paper map when you're hiking rather than relying on electronics or memory.
–Download a PDF or offline map to your phone or tablet. Use your favorite for directions like Google, Bing or Mapquest; use a hiking trails app like REI's Hiking Project or All Trails; or go directly to the area's website. The more specific you can be, the better. But then you have to make sure you don't run down the battery taking pics or searching for wifi.
SAFETY KIT. A hiking first-aid kit provides a high level of secuity. They are packed with plenty of useful items such as a reflective blanket and fishing tools in the size of one hand.At the very least, hike with a whistle. If you fall off the trail and are unable to climb out or call for help, a whistle might make the difference. Don't count on using your cell phone to save your life, between spotty service and potential breakage in a fall.
RAIN JACKET. Colorado reportedly gets 300 days of sunshine every year, but those aren't necessarily full days of sun. Many summer afternoons, especially in the mountains, have thunderstorms which are usually fairly short. Getting a little wet can be refreshing, but getting drenched for two hours solid isn't fun for most people or electronics. A lightweight, packable, waterproof (preferable) or water-resistant jacket can keep you happily on the trail and your phone/camera dry. It can also provide wind protection which is valuable the higher you hike, since there are no trees after 11,500 feet or so.
SUN PROTECTION. Sunscreen is a staple around Colorado, even though rain is expected when hiking as mentioned above. With Denver being the Mile High city, your starting elevation is at least 5,280 feet above sea level, but many hikes start at 8,000-10,000 feet. That's a lot closer to the sun than you may be used to if coming from a lower elevation.
HEADWEAR. Bring something for your head and ears if you'll be somewhere high or windy. It might be 85 degrees F when you start but 40 degrees F at the summit! For lower elevation hikes, a trucker-style ball cap that's mesh in the back for cooling is cute and functional if you like to wear long hair in a ponytail. A packable sunhat that provides scalp, ear, face and neck protection. A Buff or half-Buff can keep your neck or ears warm and also act as a sweatband.
And What NOT to Carry
"Leave only footprints, take only pictures" is the outdoor ethics adage. Please remember that whatever you leave on the trail could be there for years, and whatever you take will be gone from the trail forever. In this environment, you are a guest of the land and wildlife, let alone the public land or private preserve. Strive to leave it in the same or better condition as when you came. Ultimately, this will enhance your hiking experience and the experiences of those who use the trail after you.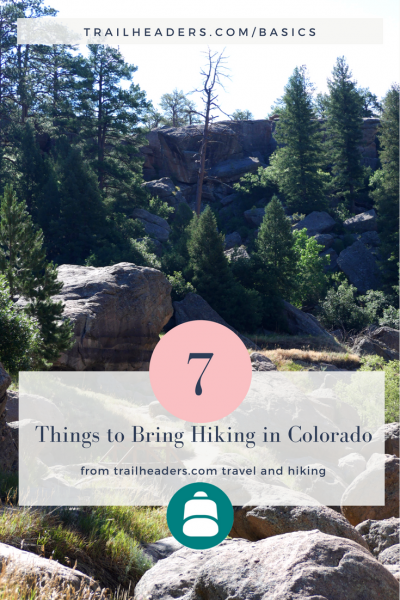 In Conclusion
What kind of items to do you carry when you hike? Are you a chronic overpacker, or do you think this list of "essentials" is over the top? Tweet @trailheaders #hikingessentials or leave a comment below with your ideas about what to bring or carry when hiking in Colorado!